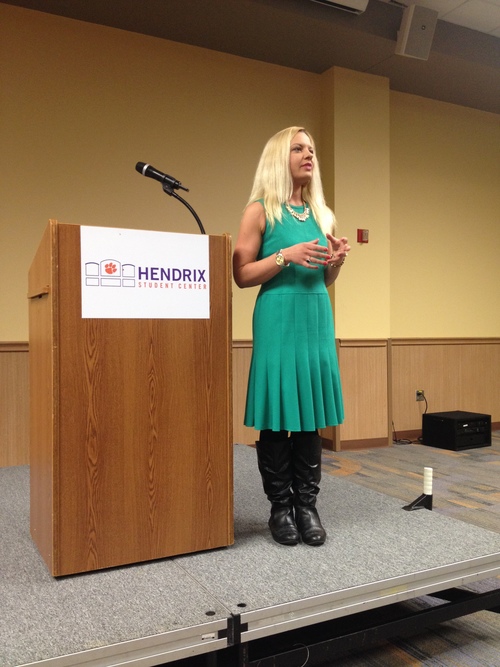 I talk to audiences about what OCD is, the many ways that OCD can manifest, and how everyone can benefit from learning how to react to anxious thoughts and fears.  I encourage everyone to take good risks, even when they feel uncertain.
I recently gave a talk at a Big 10 school.  The event had a strong turnout, so students were sitting in the aisles and on the floor in a 150-seat theater-style lecture hall. I asked the students how many of them experienced worry in the form of repetitive thoughts. I asked to see a show of hands:
"How many of you ever experience repetitive thoughts or worries that make you feel kind of hunted? But when you try to apply logic to the thoughts to make them go away, the thoughts feel bigger and more intrusive?"
Virtually every hand in the room shot up.
From my vantage point below them, it looked like a tidal wave.
The more I talked with students, the more it became clear that most of these students occasionally experienced anxiety or nagging worries, but they didn't have any tools to alleviate their anxious thoughts. They didn't know how to react to particularly sharp-edged worries that were taking on a life of their own.
I teach audiences about what to do when their worries are bothersome or scary, and how to tell if what they're experiencing is potentially OCD in its truest form on the further side of the clinical spectrum.
Regardless of whether or not someone has OCD, it's advantageous to learn how to be more aware of one's thoughts, how to react to one's thoughts, and how to power down repetitive, intrusive thoughts that drain one's energy and create escalating stress.
I have spoken at over 100 colleges around the country, including
Cornell University
Duke University
the Johns Hopkins University
the University of Southern California
NYU
the University of Alabama
the University of Minnesota
Emerson College
Boston College
Villanova University
University of Colorado
Rice University
the University of Virginia
the University of Connecticut
Clemson University
the George Washington University
Miami University of Ohio (2010, 2014, 2016)
the University of Iowa (2010, 2014)
Indiana University (2012, 2013)
Boston University (2010, 2016),
Quinnipiac University, (2014, 2015, 2016, 2017).
I have keynoted women's leadership conferences at the University of Missouri, the Stevens Institute of Technology, and at the Girl Scouts of Western Oklahoma. I have also spoken on panels and taught workshops on other topics related to leadership, writing, and women's issues at Hampshire College, Columbia University, and Syracuse University.
I am a journalist who has written about careers, mental health, and wellness for USA Today, Newsday, the Washington Post, Fast Company, the Economist, and AOL.com, among many other publications.
Interested in bringing me to speak as part of your programming? Excellent—can't wait to talk about it with you. You can contact me here.