I recently got hooked on comedian Marc Maron. Marc Maron has a huge body of work: you can listen to his CDs on Spotify, his standup clips on YouTube, his guest appearances on Conan and the Late Show and his popular WTF with Marc Maron podcast. Maron has major anxiety… and he's not afraid to talk about it.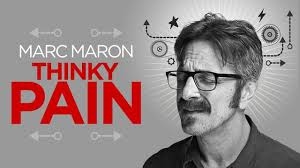 Marc Maron carries around his emotional baggage like a celebrity holds on to her oversized handbag. He is a recovered drug addict and alcoholic: he was addicted to cocaine when he was in his 20s, trying to break into comedy in Boston and New York. Today, he's sober, and an Olympic-level overthinker.  He describes the struggle of being too inside your own head as "thinky pain."
Thus, it's almost appropriate that the punchline from one of his more popular jokes could be used as a mantra to weather through OCD and anxiety storms.
Marc Maron tells a story that he recently ate way too much Chinese food, and his hand went numb. But because of his years of experience doing drugs, he didn't panic. He just thought to himself,
"I guess I'm just gonna ride this out…"
When you're gripped by an irrational fear or you're in an extended state of panic, you may experience that when you analyze the problem and look for reasons why the catastrophe in mind won't happen, the more you can feel your brain knotting tighter and tighter. OCD doesn't respond to logic. You can't rationalize your way out when the whole storm was caused by an irrational thought.  It's better to just surrender to having a storm.
You can listen to Marc Maron on YouTube; his "Drug Wisdom" bit starts at 3:24.