It's very normal for people with back pain to have some days where they feel practically limber and other days when their chronic pain is much more severe.  For migraine sufferers, sometimes they have a day–or a long stretch of days–with no migraines. And other days, they have migraines that knock them off their feet.  People with depression can have great days where the blue sky looks clear and gorgeous and all feels well in the world. And they can also experience days where they have no idea how to muster the energy, enthusiasm, or life force to pick up the takeout they just ordered. And it's the same deal with OCD.
Whether you're new to managing your obsessive-compulsive disorder or you're an obsessive-compulsive disorder veteran, it's normal to experience your symptoms to varying degrees on different days. Some days, your usual triggers may occur and you react to them as you usually do.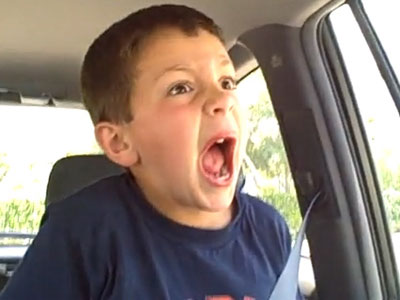 Other days, your brain feels like it's full of knives.  In the span of three hours, you may experience a trigger, get "stuck" on a thought, experience a steady sequence of irrational worries, and then have an intrusive thought that really disturbs you and pops into your head every three seconds.
There's a natural response: Why is this happening to me?!
"David After Dentist," 2008 YouTube celebrity.
Because it happens, unfortunately.  It's the same way that people without chronic mood issues can unexplainably have a good day or a crappy day (there's the adage: "Some days you're the pigeon, other days you're the statue" for that one). OCD can vary in intensity from day to day, without any warning.
It's not a good idea to analyze each obsession that bothers you; instead, try to be as "chill" as possible about it.  Think to yourself, "Okay, so I'm having an OCD-heavy day. This sucks.  Okay, whatever…" If you feel like you are getting pummeled by your thoughts, ready your stance to take the punch so you go down gracefully.  "Fighting back" with OCD thoughts only makes them bigger and more complicated.  But if you can roll your eyes at your OCD thoughts as you go about your Saturday errands, and not feel shaken, you've paradoxically won this round. Because when you don't take action or react to OCD thoughts, you're actively rewiring the frontal lobe of your brain when your amygdala says there's a problem.  Over time, this response–non-reaction, over and over again–will heal your OCD.
Naturally, if you sense that you're having a really intense OCD day because you're not fully acknowledging that someone is inflamed in your life, then it's okay to pause and check in with yourself.  If you've been really stressed, or you're avoiding a problem, perhaps that is making your OCD boil over. But usually, that's not how OCD words.  OCD isn't logical. OCD isn't logical, given the way a fully-sane person can stare at an unplugged space heater, pulse racing, and not feel confident that the space heater is off.
It's better not to look for reasons as to why you're having a flare-up. It's better to not validate the part of your brain that arbitrarily pulls the fire alarm.
Go about your day, practice good self care, and take solace that tomorrow will probably be easier. And if it isn't–you'll know how to handle it.